Overview / Screenshots


Select a Maintenance Connection Application or feature below:



Maintenance, Repair & Operations (MRO) WorkCenter

Technician WorkCenter

Service Requester

Reporter

My Dashboard

Mobile

Bar-coding

Agent / Email Notifications

GIS / ERP Integration


Mobile: Pocket PC

The Mobile feature allows Work Orders to be viewed and closed out using a Palm™ Pilot or Pocket PC device. The Pocket PC device is displayed below.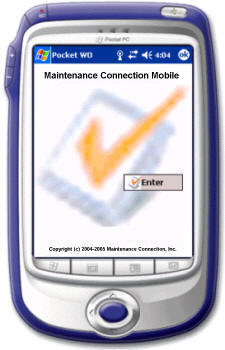 Mobile Work Orders
All of your assigned corrective and preventive Work Orders can easily be downloaded to the Palm Pilot, completed and synced back to the main database. You will notice below that the work order on the Pocket PC contains all pertinent information to complete the job.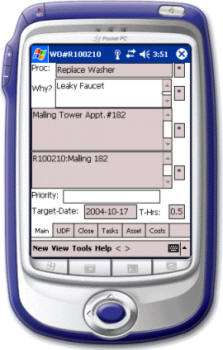 Mobile Procedures and Tasks
Look up the task details for your Preventive Maintenance and Procedures. Check off each task as you complete them and complete the work order. By clicking on an individual task, you can enter meter readings and identify failures that occur.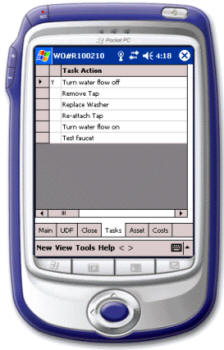 Mobile Equipment Database
Use Maintenance Connection Mobile for an equipment database and reference when out in the field. Access asset information such as model, serial number, warranty expiration date. Make changes to specifications while in the field and sync up with the primary database when you return to the office.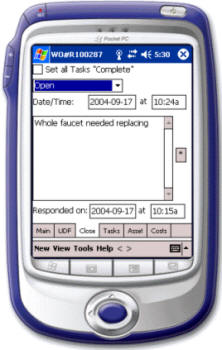 Mobile Equipment Work History
Access the work history for any piece of equipment and find out how the same problem was resolved on a previous work order. The work history will give you all work orders that have been done for the life of the equipment.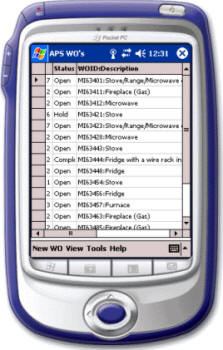 Mobile: Cell Phone

Maintenance Connection can be used with cell phones where technicians can receive assignments and then complete / close them out

. New work orders can be created on the cell phone, and inquires to Work history and Asset Specifications can be made.